The Loss of HMT Cap d'Antifer
This is the story of the fate of the HMT Cap d'Antifer and her men pieced together from a variety of sources some 60-70 years after their demise. She was crewed by men of the Royal Naval Patrol Service.
The Royal Naval Patrol Service
The RNPS went under several nicknames such as Churchill's Pirates but the most popular was Harry Tate's Navy. The men of the RNPS were a mixed bag of fisherman and other assorted salty old seadogs as well as a proportion of raw recruits with no prior experience at sea. Their vessels, at least to begin with, were also a ragbag of peacetime craft requisitioned by the Admiralty, consisting of trawlers, drifters, tugs, yachts and seemingly anything else that would float, hastily converted and armed with largely decrepit weaponry. The RNPS headquarters, where the men were trained, were based at Lowestoft, Suffolk. Originally called Pembroke X, the HQ was soon renamed rather glamorously as HMS Europa. HMS Europa was in fact the municipal pleasure ground at Lowestoft, known locally as the Sparrow's Nest.

The Cap d'Antifer
The Cap d'Antifer was a steam trawler built in 1920 by Ferguson Brothers (Port Glasgow) Ltd in its Newark shipyard on the River Clyde and was first registered by its owners Kelsall Bros & Beeching Ltd out of Hull under the name Hornbill (H244).
In the autumn of 1936 she was sold to a Belgian fishing company (Armement à la Pêche Aug. Brunet & Cº SPRL). Thus in November of 1936 she sailed from Grimsby to Ostend, arriving on the 14th, where her new owners registered and renamed her as Compass (O104), the idea being that she was to operate as a trawler most of the year and during the winter months be used to transport fish, as she apparently had a refrigerated hold (according to one source specifically to deliver herring to German ports). Whether that intention came to pass is not known.
In November 1939 she was sold to a French company (Cº Maritime de la Seine). This entity is believed to have beeen operated by the French authorities with the purpose of purchasing vessels to help with the impending war effort. And, indeed, she subsequently officially entered service in the French navy as an auxiliary minesweeper (pennant AD69, with AD standing for aviso dragueur) under the name Cap d'Antifer.
Following the German invasion of France she was commandeered by the Free French and taken across the Channel. Under French command she assisted with the evacuation of Dunkirk, making one trip and landing 291 troops.
The vessel was formally seized by the Royal Navy on July 3, 1940 at Southampton and put into service (pennant FY 350) — first as an auxiliary patrol vessel and then from 1941 as a minesweeper — serving from 1943 with the 19th Minesweeping Group based at Grimsby. The Cap d'Antifer formed part of an Oropesa Group with fellow vessels the Monimia (FY 677) and the Chalcedony (4.124).
The Crew
The Cap d'Antifer's crew on the fateful day comprised:
| | | | | |
| --- | --- | --- | --- | --- |
| Name | Age | Rank | Serial No. | Comment |
| Richard Samuel BALDOCK | 43 | Engineman | LT/KX 105034 | |
| Wilfred [Will] Henry BAXTER | 24 | Seaman | LT/JX 317327 | |
| Alfred Edward Septimus BURGHAM | 19 | Stoker | LT/KX 532059 | |
| Robert Alfred COCKAYNE | 24 | Engineman | LT/JX 251462 | Telegraphist |
| Frederick COOK | 20 | Leading Cook | LT/MX 109570 | |
| Percy William FATHERS | 28 | Seaman | LT/JX 205320 | |
| Frederick Christopher FOX | 31 | Seaman | LT/JX 263492 | |
| Victor Frederick William HOBBS | 29 | Engineman | LT/KX 116574 | |
| John William [Bill] HOOKEM | 35 | Leading Seaman | LT/JX 195944 | |
| George William JONES | 21 | Signalman | LT/JX 310936 | |
| Daniel LAMBERT | 29 | Stoker | LT/KX 131794 | |
| Richard Samuel LING | 30 | Seaman | LT/JX 177029 | |
| Arthur George Roberts McKINSLEY | 21 | Stoker | LT/KX 149177 | |
| Arthur Ronald MOORCROFT | 21 | Steward | LT/LX 28114 | |
| James Wright NEILL | 32 | Lieutenant | – | Commanding Officer |
| Thomas Arthur QUINCEY | 32 | Seaman | LT/JX 255843 | |
| Ralph Armstrong SCOTT | 52 | Chief Engineman | LT/KX 104259 | |
| Richard SMITH | 19 | Seaman | LT/JX 400443 | |
| George STUTTERS | 20 | Seaman | LT/JX 378507 | |
| Charles Lucock TOPLISS | 32 | Seaman | LT/JX 173394 | |
| Cyril WARD | 21 | Seaman | LT/JX 315980 | |
| John Holmstead WHITCOMB | 22 | Lieutenant | – | |
| Peter Hubert WHITE | 21 | Seaman | LT/JX 400020 | |
| Charles Henry [Harry] WILKINSON | 27 | Second Hand | LT/JX 173357 | |
The Fateful Day
On Sunday, February 13, 1944 the HMT Cap d'Antifer was on mine-sweeping duties south-east of the Humber when she came under combined attack from two German E-Boats carrying out mine-laying operations. Although called an E-Boat by the British, such a craft was known to the Germans as an S-Boot, which stands for Schnellboot, literally translated as a "fast boat", and they lived up to the name with a top speed of 39 knots. The two E-boats involved in the attack were the S-99 commanded by Walter Knapp and the S-65 commanded by Horst Schuur. The 24-year-old trawler Cap d'Antifer, with a top speed of 8.5 knots from her single 150 BHP engine, would have been no match for the raiding E-boats. These were new fighting technology, built between 1942 and 1943. They were powerful craft (6,000 BHP from three 20-cylinder Daimler-Benz diesel engines), with a range of 700 nautical miles and a crew of 29. As well as three machine guns, each had two torpedo tubes for delivering their 53.3cm torpedoes of which they carried four spares. It was these torpedoes that would sink the Cap d'Antifer with the loss of all crew. In its log the S-99 reported the position of the incident as 53.28n 00.55e and the S-65 more vaguely as "mouth of the Humber". Reports from contemporaries talk of a search party being sent to look for the missing trawler and its crew, although we know no details of the vessels and persons involved.
Their Final Resting Places
Robert Cockayne is buried at Burton-on-Trent and Percy Fathers at Reigate. The other men's grave is the sea and they are therefore commemorated on the Lowestoft Naval Memorial.
Wreck charts show the position of the wreck of the Cap d'Antifer as 53°17′34N 01°06′29E (WGS84), lying at a depth of 19 metres. Another source places the wreck 5.15 nautical miles SE from East Dudgeon Shoal bell-buoy. The late Ron Young, the well-known British diver, described the wreck thus in his book Shipwrecks of the East Coast. Volume Two.
"She is now totally collapsed and well broken up, with the highest parts standing just 2m high and surrounded by a small mound of debris. There is very little of interest, but the occasional lobster can be found hiding amid the rubble of flattened steel plates".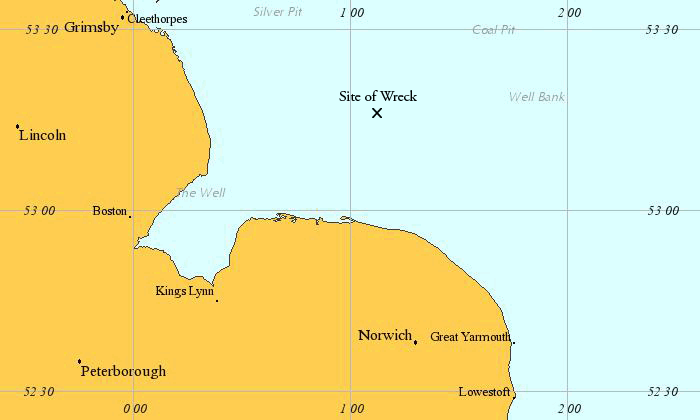 S-65 and S-99 became Soviet property at the end of the war (05/11/1945), were renamed as TK 1006 and TK 1010 respectively and became part of the Soviet Union's Baltic Fleet. They were retired from service in the 1950s and sent for scrap.
The One That Got Away
News reaches us from New Zealand (the Cap d'Antifer's fame spreads far and wide) of one former crew member's narrow escape. Read more...
Breaking News
Wartime munitions continue to cause maritime casualties.
On December 15, 2020, the crew of the fishing vessel Galwad-Y-Mor were hauling in crab pots 22 nautical miles north of Cromer, near to where the wreck of the Cap d'Antifer lies, when there was an explosion great enough to lift the vessel out of the water, resulting in very serious injuries to crew and significant damage to the vessel.
A preliminary assessment by the UK's Marine Accident Investigation Branch concludes that hauling in the crab pots probably disturbed munitions lying on the seabed.